DairyCare Software
Ease your dairy health in one-click
Health management is a simple process, but effect major on reproduction as well as production . You need to aware from your animals condition.
DairyCare is World's best Dairy management software. It's unmatched in it's simplicity and tackles all aspects of the health process.
Get deworming and vaccinaation on time! Solve the mystery, rid the misery.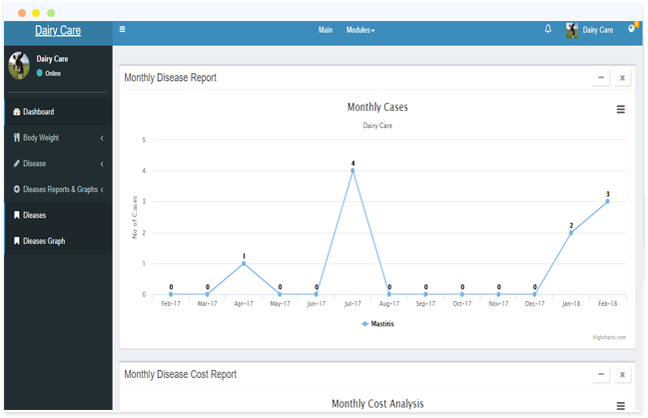 Health Management
Manage Animal Health
Manage multiple levels and layers of information such as multiple health events, reporting hierarchy with diseases chart, etc.
Track Disease Trends
Monitor your dairy's animal-related diseases, especially upon a disease repetition, culling or transfer. At all times, know which animal is useful to reproduce.
Gain insights from multiple dashboards
Evaluate your dairy with multiple dashboards and various parameters. Gain insights such as animals costs, feeding costs, profit-loss, average milk produnction in years, etc., and many other performance indicators tracked automatically from the your data entry. Use the Accounts dashboard to quickly get an overview of profit-loss, cash flow, etc.
Collect and update KYE information
Manage Know Your Animal (KYE) information by:
Storing various animal identity information
Track all activities using activity report
Using the Data Drive feature to collect identity data online
Complete Health Care
Configure Health
After you've configured and implemented DairyCare as per your needs, a click is all that you need to process dairy health tasks.
Update Treatment
Just enter treatment data, and remain updated with animal's treatment.
Update Vaccination
On each Vaccination whether it is individual or group, save your animals save diseases.
Update Deworming
Individual and Shed deworming, makes your animals healthy which results in good reproduction and higher milk production.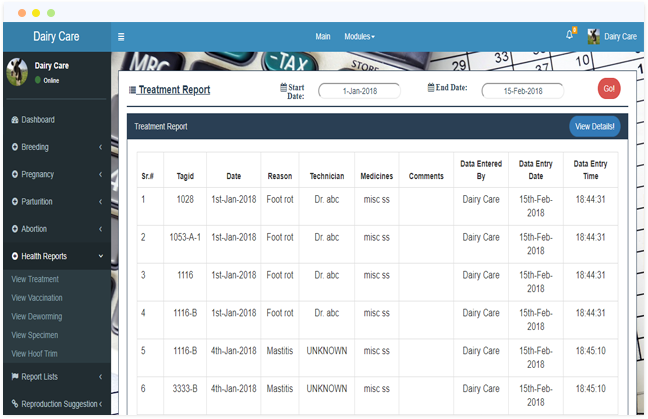 Generate Health reports
DairyCare has 10+ readymade and standard reports, including disease reports.
Our Health management system provides you with multiple configuration parameters for the following reports:
Treatment reports
Vaccination reports
Deworming reports
Disease reports
Health Graphs