DairyCare Software
Engage your animals not spreadsheets
Implement DairyCare and watch systems automatically fall in place. Irritating concerns just vanish and the workplace is a fun zone again!
A simple Dairy system is a must for all organizations. Track all animals life-cycle activities, simplify Dairy work and get deep insights with zero effort.
Say goodbye to low yielders, confusion, data ambiguity and inconsistencies! Say hello to happy high yielders animals and higher profits!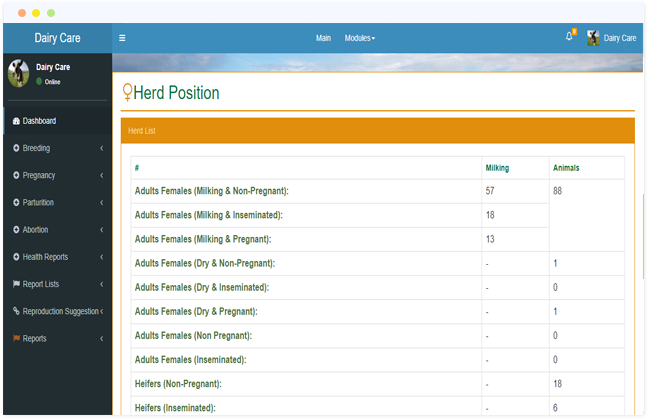 Core Reproduction - Where Everything Begins
Capture all animal's breeding data
Capture all necessary animal information ranging from one lactation to another lactation at a centralized location.
Manage lifecycle activities
Easy tools to carry out various animals lifecycle activities, such as insemination, pregnancy, calving, etc.
Maintain complete animal history
Maintain complete animal history in terms of insemination, pregnancy, activity reports, or other status changes.
Search animal data
Use powerful search and querying capabilities to quickly locate, consume, or update animal information.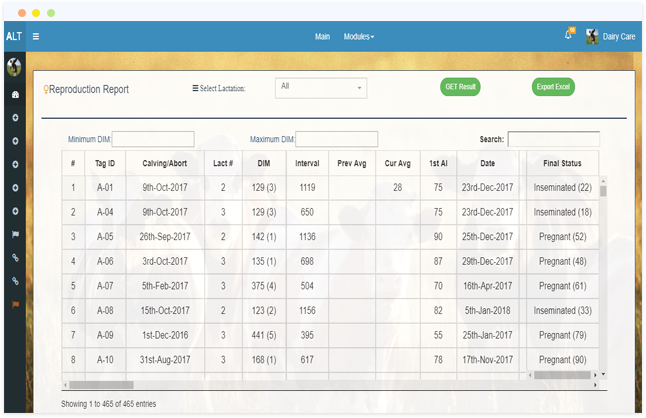 Reproduction Management
Manage Insemination
Manage multiple levels and layers of insemination such as artificial insemination, bull breeding, reporting hierarchy with insemination chart, etc.
Track Timed Breeding
Monitor your dairy's animal-related breeding, especially upon a insemination repetition, culling or transfer. At all times, know which animal is useful to reproduce.
Gain insights from Reproduction dashboard
Evaluate your dairy with Reproduction dashboards and various parameters. Gain insights such as animals costs, conception ratio, pregnancy rate, growth rate per year, etc., and many other performance indicators tracked automatically from the your data entry. Use the dashboard to quickly get an overview of Herd Position, Pregnant Animals, etc.
Collect and update KYE information
Manage Know Your Animal (KYE) information by:
Storing various animal identity information
Track all activities using activity report
Using the Data Drive feature to collect identity data online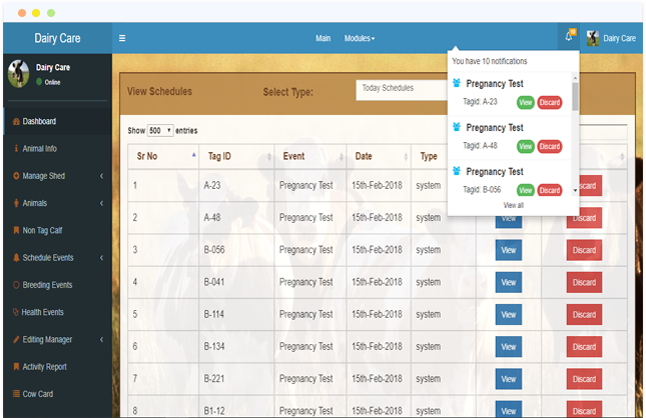 Reproduction Reminders and Alerts
Automatic Alerts on Animal's Events
Quickly send out a memo or a bulk email to selected or all users. DairyCare Software keeps you up-to-date with each animal.
Send reminders and alerts
Access and use animal's lifecycle events. Publish automated report cards; customize and send reminders and alerts to:
Admins
Dcotors
Breeding Technician
Use notification
Use notification to perform and keep your workers ready to perform tasks on animals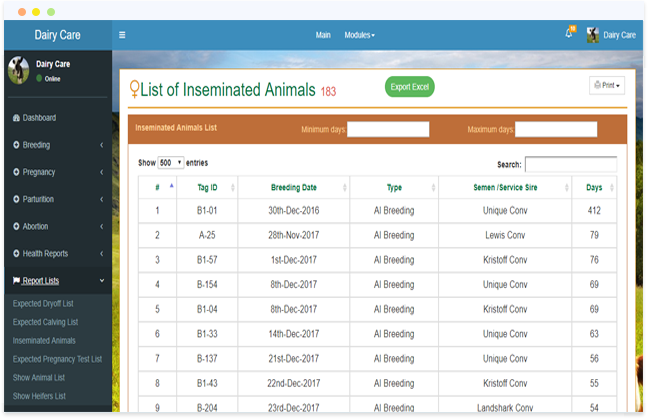 Reproduction Reports
Use Reproduction reports
ait's core Reproduction software module provides you with reports for insightful and meaningful Reproduction analytics. Other than insemination or calving reports, you can also access Instant Expected Task reports, and keep a strict eye on your daily tasks.
Update and evaluate dairy
As your dairy grows, your need to keep all animals updated about various breeding-related information, pregnancy and calving, e.t.c increases. Within a few clicks, DairyCare's core Reproduction management software module helps you to:
Evaluate/ update animal's activity regarding breeding
Update commonly required forms and events perform on animals